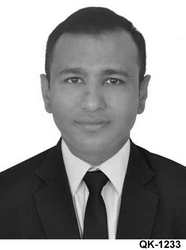 Mr.Siddhartha Ray
Senior Associate
B.A.LL B
siddhartha.ray@astrealegal.com
ExpertiseBiotechnology,Tourism & Hospitality,Appellate, International Laws, Treaties & Conventions, Human Rights,
iddhartha is a lawyer with over twelve years of extensive experience in a range of contentious and non-contentious matters including constitutional, civil, criminal and corporate laws. He graduated from one of the top law schools in India, having excellent oral and written communication and negotiation skills. Involvement in all aspects of drafting, pleading, negotiation and advisory work emanating from the field of constitutional, civil, criminal and corporate litigation. Further, his responsibilities include prosecuting and defending matters before various Courts including the Hon'ble Supreme Court, Hon'ble High Court of Delhi and Senior Counsel, appearing and arguing matters.
Enrolled as an Advocate on the Rolls of Bar Council of Delhi, India in 2003.
LL.B. (Bachelor of Laws), from Symbiosis Society's Law College, University of Pune, India (1999 – 2002).
B.A. (Bachelor of Arts), from B.J.B. College, Bhubaneswar, India (1996-1999).