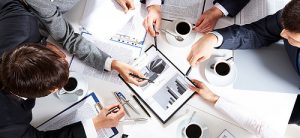 Every business deal involves due diligence because the parties are concerned about factual issues relating to their decision to enter into the transaction and about the terms on which they are willing to do the transaction. It is a comprehensive assessment of the possible legal risks associated with the business of the target company concerned.
The due diligence ensures smooth business action as the process, methodology, checklist helps to understanding all legal aspects including company status, debt, agreements, employment, property transaction, environmental issues, research in real estate records, acquiring objective and credibility of their potential business partners, before entering into major transactions like joint ventures, mergers, acquisitions, transfer of shares, commercial lease, etc. prior to any decision.
We bring a systematic approach to due diligence review, with quality-control mechanisms built in at each juncture. This method allows us to maximize risk identification, while minimizing costs.
Astrea lawyers conduct result oriented and cost-effective due diligence with intensive investigation in various matter which includes:
• Land acquisitions
• Intellectual Property Rights
• Corporate
• Environmental laws etc.