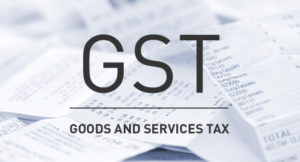 A tax trigger aimed to replace the current complex structure of multiple indirect taxes in favour of a comprehensive dual Goods and Services Tax (GST) is becoming a reality soon. With clear road map being laid down by the Finance Ministry, the Government seems on course to fast track the entire process to achieve targeted GST implementation effective 1 July 2017.
Proposed GST Structure for India
In India, GST was conceived in 2004 by the Task Force on implementation of the Fiscal Responsibility and Budget Management Act, 200316 (Kelkar Committee) while analyzing prevailing indirect tax system both at Central and State level. The Kelkar Committee observed that a tax reform of nationwide dual GST which would comprehensively tax the consumption of almost all goods and services in the economy would be able to achieve 'a common market, widen the tax base, improve the revenue productivity of domestic indirect taxes and enhance welfare through efficient resource allocation'.
The existing Indian Indirect tax structure empowers levy of taxes by Central government on manufacturing of goods and supply of services like Customs duties, Central Excise duty, Service tax etc; and State governments on goods at point of sale such as state VAT, Entry Tax, Octroi etc.
Multiplicity of taxes and tax base being fragmented between Centre and States have resulted in a complex system of interconnected legislations leading to substantial distortions, cascading of taxes and adversely effecting growth in Gross Domestic Production (GDP).
Some of the limitations of the prevailing Indirect tax structure are:
Central Value Added Tax (CENVAT) structure does not tax value addition post the stage of production
CENVAT portion of input goods remains included in the value of goods to be taxed under State VAT contributing to that extent a cascading effect on account of CENVAT element.
No integration of VAT on input goods with service tax on services at the State level thereby causing cascading effect of service tax.
The proposed GST is consumption type VAT where only final consumption is treated as the final use of a good. GST is expected to integrate taxes on goods and services across all supply chain for availing set-off and capture value addition at each stage.
A continuous chain of set-off is expected to be established from the original producer's/ service provider's level upto the retailer's level which would eliminate the burden of all cascading effects. Suppliers at each stage would be permitted to set-off the GST paid on the purchase of input goods and services against GST to be paid on the supply of goods and services.
GST Model Proposed for India
Based on the recommendations, the Government constituted an Empowered Committee comprising of State Finance Ministers (Empowered Committee) to prepare a Design and Road Map for the implementation of GST.
Salient features of the proposed GST model based on reports of Empowered Committee are as follows:
GST model is proposed to be a dual structure to be levied and collected by the Union government [Central GST (CGST)] and respective State governments [State GST (SGST)]. This dual GST model would be implemented and governed by one CGST/IGST statute applicable across the country, SGST statutes for each State, common rules determining valuation, place of supply, place of origin etc.
CGST and SGST would be applicable to all transactions involving supply of goods and services made for a consideration (except alcoholic liquor for human consumption) and the exempted goods and services, goods which are outside the purview of GST and the transactions which are below the prescribed threshold limits.
GST to be structured on the destination principle so that the tax base shifts from production to consumption whereby imports will be liable to tax and exports will be relieved of the burden of GST. Consequently, revenues will accrue to the State in which the consumption takes place or is deemed to take place.
Taxes paid on input goods/services against CGST shall be allowed to be utilized as input tax credit (ITC) against output tax liabilities under CGST and same principle applies to SGST.
In order to maintain uninterrupted credit chain, CST would be phased out in case of inter-state transactions of taxable goods. On such transactions, Centre would levy Integrated GST (referred to as IGST which would be CGST plus SGST) with appropriate provision for consignment or stock transfer of goods and services.
The inter-state seller will pay IGST on value addition after adjusting available credit of IGST, CGST, and SGST on his purchases. The importing dealer will claim credit of IGST while discharging his output tax liability in his own State.
In view of the fact that the CGST and SGST are intended to be levied on consumption of all goods and services, these two taxes must subsume all taxes presently levied on various goods and services by the Centre and the States, respectively.
INDIRECT TAXES TO BE SUBSUMED INTO GST
CENTRAL INDIRECT TAXES
STATE INDIRECT TAXES
Central Excise duty
 Value Added Tax/Sales Tax
Service tax
Entertainment Tax (other than the tax levied by the local bodies
Additional Excise duties
Central Sales Tax
Excise Duty levied under the Medicinal and Toilet Preparations (Excise Duties) Act, 1955
Octroi/Entry Tax
Additional Duty and Special Additional Duty of Customs
Purchase Tax
Central cesses and surcharges in so far as they relate to supply of goods and services
Luxury Tax

Taxes on lottery, betting and gambling

State cesses and surcharges in so far as they relate to supply of goods and services
GST RATE STRUCTURE
Tax Rates
Products
Exempt
Food Grains

Milk

Cereals

Jaggery

Common Salt

Services:

Education, Healthcare, Residential accommodation, Hotel/Lodges below INR 1000

5%
Edible Oil, Sugar, Spices, Tea, Coffee(except instant coffee)

Coal (instead of current 11.69%)

Indian Sweets

Life saving drugs

Services:

Transport services, small restaurants will be under the 5% category because the main input is petroleum, which is outside GST ambit

12%
Computers, Processed Food

Services:

Non-AC hotels, business class air ticket, fertilizers, work contracts will fall under 12 per cent GST tax slab

18%
Hair-oil, Tooth paste and soaps (currently at 28%)

Capital goods and industrial intermediaries (big boost to local industries)

Services:

AC hotels that serve liquor, telecom services,  IT services, branded garments and financial services will attract 18 per cent tax under GST

28%
Small Cars (+1% or 3% cess)

Consumer durables such as AC and Cars

Luxury and  Sin items like BMWs, Cigarettes, and aerated drinks (+15% cess)

High-end motorcycles  (+15% cess)

Beedis are NOT included here

Services:

5-star hotels, race club betting, cinema will attract 28 percent tax slab under GST
The Council has set the rate for capital goods and industrial intermediate items at 18 per cent. This will positively impact domestic manufacturers as seamless input credit will be available for all capital goods. Indeed, it is time for "Make in India".
Coal to be taxed at 5 percent against current 11.69 per cent. This will prove beneficial for the power sector and heavy industries which rely on coal supply. This will also help curb inflation.
Toothpaste, hair oil, and soaps will all be taxed at 18 percent, where currently they are taxed at 28 percent. Most of the cosmetics and fast moving consumer goods (FMCG) brands should get the benefit of this tax reduction.
For restaurants serving alcohol, the tax bracket will be 18 per cent
Education, healthcare are going to be exempted from GST
A four tier GST tax structure as above has been proposed by the GST Council. Keeping zero or very low rates for essential food items which makes up the half of the consumer basket will ensure that there is no widespread inflation due to implementation of revised tax slabs under GST. At the same time, luxury goods and negative items would be taxed at a significantly higher rate so as to ensure revenue neutrality for central and state governments once the new GST tax rates are implemented. An additional concessional GST tax slab is likely to be implemented for gold and other precious metals that currently attract only 1% VAT.
The proposed GST rates are likely to ease burden on common man as the rates are lower than existing tax on most mass consumption items.
Input Tax Credit
From the GST structure proposed by the Empowered Committee and in accordance with the Model GST law, following principles emerge and should be strictly adhered to in framing of legislations:
Since the Central GST and State GST are to be treated separately, taxes paid against the Central GST shall be allowed to be taken as ITC for the Central GST and should be utilized only against the payment of Central GST. The same principle will be applicable for the State GST.
Cross utilization of ITC between the Central GST and the State GST would not be allowed except in the case of inter-State supply of goods and services under the IGST model. Availability of uninterrupted ITC chain on inter-State transactions as a contrary to the existing indirect tax structure where ITC on CST is not available.
Seamless credit and complete utilization of input credit thereby avoiding cash blockage. No distinction between capital goods and other inputs, and no depreciation need be computed. Like most countries under VAT/GST, full and immediate credit for the VAT/GST on capital goods should be allowed unlike existing regime wherein credit for CENVAT paid on capital goods or CVD on imported capital goods is spread over two years resulting in undue blockage of funds.
GST TRANSACTION ANALYSIS
The changes after the implementation of GST can be best assessed by comparing the current Taxation regime with the GST regime and analyse the difference as how the GST regime removes the cascading effect.
Non – GST Regime
Stages of transactions until the product reach the Consumer.
*Assumptions: 10% Tax paid at each stage. Product is transferred from Manufacturer to Wholesaler to Retailer and finally the end Consumer.
Stage 1: Manufacturer
Therefore, Manufacturer pays Rs. 13 as tax on product, where resource supplier has already paid Rs. 10.
Total Tax paid by both: Rs. 23.
Stage 2: Wholesaler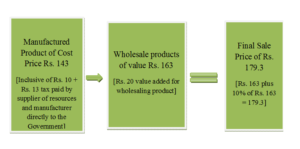 Therefore, Wholesaler pays Rs. 16.3 as tax. Tax paid till the present stage:
Wholesaler: Rs. 16.3
Manufacturer: Rs. 13
Resource supplier: Rs. 10
Total: Rs. 36.3
Stage 3: Retailer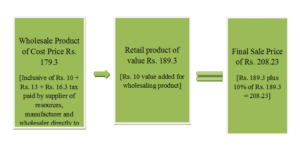 Therefore, tax paid in total:
Retailer pays Rs. 18.93 as tax.
Wholesaler: Rs. 16.3
Manufacturer: Rs. 13
Resource supplier: Rs. 10
Total Tax Paid, also known as Cascading amount is Rs. 58.23 borne by the Consumer. Hence, the final price paid by the Consumer amounts to Rs. 208.23.
GST Regime
Stages of transactions until the product reach the Consumer.
*Assumptions: 10% Tax paid at each stage. Product is transferred from Manufacturer to Wholesaler to Retailer and finally the end Consumer.
Stage 1: Manufacturer
Stage 2: Wholesaler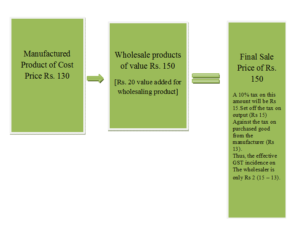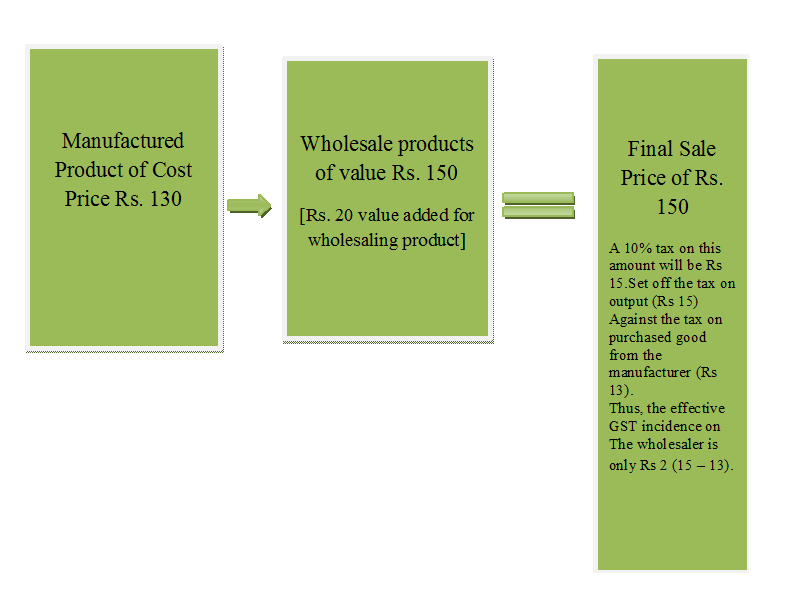 Stage 3: Retailer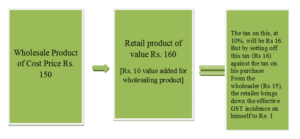 Thus, the total GST on the entire value chain from the raw material/input suppliers (who can claim no tax since they haven't purchased anything themselves) through the manufacturer, wholesaler and retailer is, Rs 10 + 3 +2 + 1, or Rs 16.
Final cost of product= Rs.166 (Rs.150+16)
Impact of Goods and Service Tax
GST Business Impact
Advocacy
Rate of Tax
Time & Place of supply
Treatment of Current incentives
Valuation
Indirect Tax impact assessment
Revenue Stream
Procurement stream
Costing, Pricing and working capital
Supply Chain
Operating model
Sourcing
Distribution
Working Capital
Contracting
Accounting and Reporting
Tax credit, payment and accounting
Change assessment in accounting entries
Risks & Controls
Technology Refresh
Compliance with GSTN requirements
Getting systems ready for Audit
Automation
Compliance
GST registrations
Tax credit transactions
Return reporting
Other statutory compliances
Managed/shared services
Program Management
Program planning
Governance forums
Deliver communications
Drive project Delivery
Quality assurance
Program integration
Budget management
Food Industry
The application of GST to food items will have a significant impact on those who are living under subsistence level. But at the same time, a complete exemption for food items would drastically shrink the tax base. Food includes grains and cereals, meat, fish and poultry, milk and dairy products, fruits and vegetables, candy and confectionary, snacks, prepared meals for home consumption, restaurant meals and beverages. Even if the food is within the scope of GST, such sales would largely remain exempt due to small business registration threshold. Given the exemption of food from CENVAT and 4% VAT on food item, the GST under a single rate would lead to a doubling of tax burden on food.
Housing and Construction Industry
In India, construction and Housing sector need to be included in the GST tax base because construction sector is a significant contributor to the national economy.
FMCG Sector
Despite of the economic slowdown, India's Fast Moving Consumer Goods (FMCG) has grown consistently during the past three – four years reaching to $25 billion at retail sales in 2008. Implementation of proposed GST and opening of Foreign Direct Investment (F.D.I.) are expected to fuel the growth and raise industry's size to $95 Billion by 2018.
Rail Sector
There have been suggestions for including the rail sector under the GST umbrella to bring about significant tax gains and widen the tax net so as to keep overall GST rate low. This will have the added benefit of ensuring that all inter – state transportation of goods can be tracked through the proposed Information technology (IT) network.
Financial Services
In most of the countries GST is not charged on the financial services. Example, In New Zealand most of the services covered except financial services as GST. Under the service tax, India has followed the approach of bringing virtually all financial services within the ambit of tax where consideration for them is in the form of an explicit fee. GST also include financial services on the above grounds only.
Information Technology enabled services
To be in sync with the best International practices, domestic supply of software should also attract G.S.T. on the basis of mode of transaction. Hence if the software is transferred through electronic form, it should be considered as Intellectual Property and regarded as a service. And if the software is transmitted on media or any other tangible property, then it should be treated as goods and subject to G.S.T
Impact on Small Enterprises
There will be three categories of Small Enterprises in the GST regime. Those below threshold need not register for the GST
Those between the threshold and composition turnovers will have the option to pay a turnover based tax or opt to join the GST regime. Those above threshold limit will need to be within framework of GST Possible downward changes in the threshold in some States consequent to the introduction of GST may result in obligation being created for some dealers. In this case considerable assistance is desired.
In respect of Central GST, the position is slightly more complex. Small scale units manufacturing specified goods are allowed exemptions of excise upto Rs. 1.5 Cores. These units may be required to register for payment of GST, may see this as an additional cost.
Offences and Penalties under GST
 Offences
To prevent tax evasion and corruption, the GST Law lists the offences and penalties. There are21 offences under GST, apart from the penalty for availing compounding by a taxable person who is not eligible for it.
Fake/wrong invoices
A taxable person supplies any goods/services without any invoice or issues a false Invoice.
He issues invoices using the identification number of another bonafide taxable person
Fraud
He submits false information while registering under GST
He submits fake financial records/documents or files fake returns to evade
Tax evasion
He collects any GST but does not submit it to the government within 3 months
He obtains refund of any CGST/SGST by fraud.
He takes and/or utilizes input tax credit without actual receipt of goods and/or services
He deliberately suppresses his sales to evade tax
Supply/transport of goods
He transports goods without proper documents
Supplies/transports goods which he knows will be confiscated
Destroys/tampers goods which have been seized
Others
He has not registered under GST although he is required to by law
He does not deduct TDS or deducts less amount where applicable.
Being an Input Service Distributor, he takes or distributes input tax credit in violation of the rules
He obstructs the proper officer during his duty (for example, he hinders the officer during the audit by tax authorities)
He does not maintain all the books that he required to maintain by law
Note: For any offence committed by a company, both the officer in charge (such as director, Manager, secretary) as well as the company will be held liable.
For LLPs, HUFs, trust, the partner/karta/managing trustee will be held liable.
Penalties
An offender has to pay a penalty amount of tax evaded/short deducted etc., i.e., 100% penalty, subject to a minimum of Rs. 10,000.
For cases of fraud, additional penalties as follows:
Tax

amount

involved

100-200 Lakh
200-500 Lakh
Above 500 Lakh
Term of

Imprisonment

Upto 1 Year
Upto 3 Year
Upto 5 year
Fine
Fine In all three cases

For other cases (no intention of fraud or tax evasion)
An offender not paying tax or making short-payments has to pay a penalty of 10% of the tax
Amount due subject to a minimum of Rs.10, 000.
Therefore, the penalty will be high at 100% of the tax amount when the offender has evaded i.e., where there is a deliberate fraud for other genuine errors, the penalty is 10% of tax.
General Penalty
Any offense under GST for which penalty is not specifically mentioned will be liable to a
Penalty extending Rs. 25,000.
Note: There will be no penalty for minor breaches (tax amount less than Rs. 5000). The tax authority may issue a warning in such cases.
Refund Claims under GST for Tax and ITC
Ø Refund Process under GST
Following are the procedures for processing of refund claimed-:
Application form for claiming refund can be filed through the GSTN portal.
An acknowledgement number would be shared with applicant via sms or email, once the application is filed electronically.
Adjustment would be made to return and cash ledger and reduce the "carry-forward input tax credit" automatically.
Refund application and documents submitted shall be scrutinized within a period of 30 days of filing the refund application.
Concept of "unjust enrichment" would be examined for reach refund application. If it does not qualify, then the refund would be transferred to CWF (consumer welfare fund).
If refund claimed exceeds the predetermined amount of refund then it will go through pre-audit process for sanctioning the refund.
Refund will be credited electronically to the account of applicant via ECS, RTGS or NEFT.
Application for refund can be made at end of each quarter.
No refund shall be provided for an amount of less than Rs 1000.
Ø Refund of ITC Cases and Exceptions 
Refund of unutilized input tax credit can be claimed in the following two cases under GST:
Unutilized input tax credit on zero-rated goods/services on which no payment of tax was made can be claimed as refund.
Accumulation of unutilized ITC due to higher tax rate on inputs than the output supplies (other than zero-rated/exempted goods)
Note: No refund of unutilized ITC would be allowed under the following cases:
 If the unutilized ITC is for GST paid on goods exported out of India which attract excise duty.
If the supplier of goods has availed duty drawback on the excise duty paid or claims the refund on the integrated tax paid on such supply.
The application process for claiming refund shall include:
(a) Such documentary evidence as may be prescribed to establish that a refund is due to the applicant and
(b) Such documentary or other evidence, like the amount mentioned in tax invoice, as the applicant may furnish to establish the amount of tax and interest, if any, paid by the applicant and that he has not passed the tax burden to another person.
If the amount of refund claimed is less than Rs 2 lakh then the taxpayer can file an application based on documentary or other evidence but only by certifying that the incidence of such tax is not passed on to any other person.
Ø Situations for Refund under GST
Export of Goods & Services
Refund of unutilized Input Tax Credit
Refund from Manufacturing/Generation/Production-tax free supplies
Excess payment due to mistake
Finalization of provisional assessment
Refund for tax payment on transactions by UN bodies, CSD canteen, Para-military forces canteens etc.
Refund of Pre-deposit in case of Appeal
Export of Goods or Services (including Deemed Export)
In case of export of goods and or services out of India on which export duty is not payable then tax paid inputs and claiming refund of the paid taxes at the time of export.
In case of export of goods and or services out of India on which export duty is payable then availing the input tax credit of duty paid inputs and exporting finished goods after payment of duty and thereafter claiming the rebate of the duty paid on export. Refund of the unutilized input tax credit can't be claimed. 
Refund of Unutilized input tax credit
 Refund of Unutilized input tax credit can be claimed at the end of any tax period if rate of tax on inputs is higher than the rate of tax on outputs.
Refund from Manufacturing/Generation/Production-tax free supplies
Refund of tax paid on inputs used for the Manufacturing/Generation/Production creation of tax free supplies.
Excess payment due to mistake
 Refund of excess payment of tax either by mistake or by inadvertence resulting in more payment of tax than due to the government.
Finalization of provisional assessment
When assessee will be entitled to refund in the consequent to the order for final assessment
Refund of Pre-deposit in case of Appeal
 Where an amount deposited by appellant for appeal is required to be refunded consequent to any order of the First Appellate Authority.
Relevant Date for claim Refund
For claiming refund, application shall be made within 2 years from the relevant date. If the refund of tax and interest has been paid under protest then the limitation of 2 years shall not be apply.
| | |
| --- | --- |
| Situation | Relevant Date |
| Goods are exported by Sea or Air | Date on which the such ship or aircraft leaves India |
| Goods are exported by Land | Date on which the such goods pass the frontier |
| Goods are exported by Post | Dates of dispatch of goods by Post Office concerned |
| Goods regarded as deemed exports | Date on which the return relating to such deemed exports is filled. |
| Services exported out + supply of service had been completed prior to the receipt of payment | Date of receipt of payment |
| Services exported out + payment received in advance prior to the issue of the invoice | Date of issue of invoice |
| Tax refundable in consequence of judgment, decree, order or direction of Appellate Authority, Appellate Tribunal or any court | Date of communication of such judgment, decree, order or direction |
| Unutilized input tax credit | End day of the Financial year in which such claim for refund arises |
| Tax is paid provisionally under this Act | Date of adjustment of tax after the final assessment |
Eligibility for getting refund by Applicant
Refund shall be paid to the applicant, if such amount is relatable to-
Refund of tax and interest or any other amount paid by the applicant + he had not passed such tax and interest to any other person.
Tax or interest borne by such other class of applicants notified by as the central or state government on the recommendation of the council.
On receipt of any application, if proper officer is satisfied that the whole or part of the amount claimed as refund is not eligible for refund then he may make an offer accordingly and amount so determined shall be credited to the Consumer Welfare Fund.
Refund order will be sanctioned within ninety days from the date of receipt of complete application.
If any refund amount is not refunded within three months from the date of receipt of application then interest at such rate as may be specified in the notification issued by the Central or state Government on the recommendation of the council shall be payable in respect of such refund from the date immediately after the expiry of the due date till the date of refund of such tax.
Time limit for filing refund claim
Any person claiming the refund of the GST tax, or the interest paid should make an application within a period of two years from the relevant date using the Form GST RFD-01 electronically. A registered person may claim the balance available in the electronic cash ledger by filing the return as per the dates mentioned under GST.
An agency of the United Nations Organization or any multilateral financial institution and organizations notified under the United Nations, Consulate or Foreign embassies are all entitled to refund of tax on inward supply of goods and services or both. An application has to be filed for the refund before the expiry of 6 months from last day of the quarter in which such goods/service were received.
Ø Delay in Refund and Interest
According to the GST law and recommendations from the Subramanian committee, a refund application is to be processed within a period of 90 days.
If the refund application is not processed within said period then an interest at the rate of 6% is recommended.
According to Nirmala Sitharaman (Commerce and industry minister) who spoke for the concern of exporters on delay in refund, that the refunds under GST shall be processed within a period of 7 days. If same is delayed more than 2 weeks, then refund will be provided with interest.
NOTE:
If the refund amount is less than Rs.1000/- then no refund shall be paid.
Where an order giving rise to a refund is the subject matter of an appeal or further proceeding or where any other proceeding under this Act is pending and commissioner/ Board is of the opinion that grant of such refund is likely to adversely affect the revenue then after giving an opportunity of being heard to assessee withhold the refund till such time as it will determine in appeal or proceeding as the case may be.
Where a refund is withheld in previous provision and assessee shall be entitled to interest on such refund, if result of the appeal or proceeding is in favour of applicant.
The applicant must submit documentary evidences including invoice or similar document which are issued by him to establish the fact that evidence of tax/interest/amount paid was not passed on by the applicant to any other person.
If the amount of refund claim is less than Rs. 5 lakh, there is no need of filing such documentary evidence instead, a self-declaration based on the documentary and other evidences by the applicant certifying that he has not passed on the incidence of such tax and interest is sufficient to claim refund.
It is also provided that in case of refund claim by notified registered taxable person where refund is on account of export of goods and/or services, refund will be limited to 80% of the total amount claimed( excluding input tax credit not yet finalized).
This refund of 80% will be on a provisional basis, and will be subject to certain conditions. Remaining 20% may be refunded after due verification of documents furnished by the documents.
– By Neha Mishra