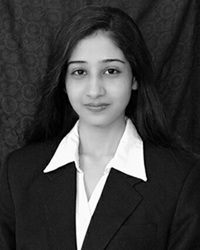 Urwi Keche, Partner
BA. in Law, LL.B, LL.M (Administrative and Constitutional Law)
urwikeche@astrealegal.com
Practices Property due Diligence, Trade Mark, Copy Right, Legal Drafting, Medico Legal Matters, Arbitration
Urwi is very active in social activities. She is known for her dedication and constant performance toward the firm and clients to achieve perfection.
Work Experience
Designated Partner – Astrea Legal Associates LLP 
Role – Responsible for dealing with National and International Clients, Daily case management of all the offices across the country. Have assisted renowned MNCs in Legal works.
Experience in Property due Diligence, Trade Mark, Copy Right, Legal Drafting, Medico Legal Matters, Arbitration, etc.
Responsible for building Research Team, proof reading and monitoring works of Researchers.
Associate Advocate – Astrea Legal Associates LLP Was responsible for talent acquisition and Dispute management and represented firm's clients and mostly co-ordinate with legal talent to resolve legal issues.
Lady Lawyer on ICC Committee – As a Legal Consultant on Internal Complaint Committee for sexual harassment cases within the jurisdiction of the College.
Lecturer at Dr. Panjabrao Deshmukh College of Law – Experience of teaching to LL.B students – subjects like "Legal Language and Writing" and "Professional Ethics" by way of Lecture, Discussion, Practical and Seminar method with the help of teaching aids like reference books and Audio-visual aids
Guest Speaker at Workshop on "Sexual Harassment of Students & Women" in Collaboration with PUSH conducted by Late Madanlal Mundhada (Ashok) Arts, Commerce and Science College.
Guest Speaker at Workshop on "Women Empowerment & Status of Women in Indian Family System" conducted by Holy-cross School.
Guest Lecturer at Anganwadi Training Center AWTC under GTC –  which includes teaching and guiding Angawadi workers about Women's issues and related Laws, Legal Remedies and Government Measures. The aim of the work is to make Angawadi workers understand various problems women face in the society and what legal remedies are available to them so they can empower themselves and other women around them
Registered At 
Bar Council of India
Bar Council of Maharashtra and Goa
Research Work and Papers Published
Maternity Benefits: A study on Maternity Benefits policies in Different Countries -ISBN978-9384021-40-5
Cinderella Law: A Right of a child to grow in Emotional-abuse-free Environment – ISSN 2395-0315.
Bentham's thoughts on Utilitarianism: The Greatest happiness Principle ISSN – 2278-9308.
Improvement in Parliamentary Election Procedure: Need of the Hour- ISSN 2278-9308.
Inappropriate Implementation of Equality, how it increases the work burden and how this 'Imbalance in Separation of Work' affect working women" -ISBN – 978-93-84198-56-5.
Children's Rights – U.G.C. Sponsored Moot Court One Day Workshop on Human Rights – 21st December 2013 – ISBN – 978-93-82588-21-4.
Management of Internal Security -ICSSR, Government of India Sponsored ISBN – 978-81905776-551.
Misunderstood concept of Equality between all Human being and Between Men and Women – National Conference on Human Rights.
Right to Property and Women Empowerment – UGC sponsored one day State Level Seminar on Empowerment of Women & Legislative Provision.
Study and Classification of Contemporary Political Systems – "Maharshtra Rajyashatra Lokaprakashan Parishad's 31st Adhiveshan"