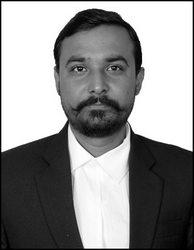 Associate
B.Com, LL.B
naman@astrealegal.com
Practices: Corporate and commercial,infrastructure,corporate finance, electricity regulatory,M&A activities, IPO, QIP, Bond Issuances and Private Equity Transactions
Naman is a certified M&A lawyer and  has experience in corporate and commercial practice . He has rendered advise to infrastructure companies on matters relating to general corporate, M&A, commercial contracting, corporate finance, electricity regulatory matters, litigations and dispute resolutions, and real estate.
He has hands on experience in handling the due diligence processes for M&A activities, IPO, QIP, Bond Issuances and Private Equity Transactions from both investor/purchaser and target/ seller companies which involves conducting activities relating to setting up virtual/ physical data room, managing Q&A activities representing both for the purchasers and sellers, addressing the issues identified in the diligence report, review and support in execution of transaction documents, preparation of CP and closing checklists for transaction closing. He also has negotiated and finalized large commercial contracts such as EPC and O&M Contracts for power projects.
Also, he has handled finance related assignments including project finance, acquisition finance and has supported the Borrower's project team in finalizing the scope of lenders legal counsels and in finalizing documents including compliance with the pre disbursement conditions and support in creating and perfecting the security as stipulated under the facility documents.
Naman has also handled regulatory proceedings including drafting of petitions, replies, rejoinder, rejoinder and miscellaneous applications before various High Courts, Appellate Authority for Electricity, Central Electricity Regulatory Commission, Karnataka Electricity Regulatory Commission and Maharashtra Electricity Regulatory Commission. Naman has experience in arbitration relating to high value commercial disputes.
Naman has thorough experience in conducting title verification and has assisted power companies in land acquisition in State of Karnataka, Madhya Pradesh, Uttar Pradesh and Chhattisgarh by preparing search reports, drafting of conveyance documents and support in registration process, drafting of power of attorney and making necessary application before the revenue authorities in relation